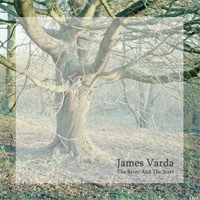 James Varda is a rare bird indeed, a folk singer who makes an impact with an album and then disappears from view completely. It happened after 1989's Hunger and then again after 2004's In The Valley. His debut album attracted a lot of attention and resulted in an appearance at Cambridge Folk Festival, amongst other things, but then…? His publicity makes no attempt to explain what happened to his muse (or his music-making) in the long gap between the first two albums and the slightly shorter gap between 2004 and this new collection of songs. Reading between the lines of this rather beautiful new album you might assume any number of reasons that might affect a sensitive soul, driven to make music but filled with distaste for what it takes to put your music out into the world.  No matter, really, because it's a precious thing to hear the voice of a man making music entirely on his own terms.
                One way and another, these songs seem to be a search for something worth holding onto in the midst of a life that is a maelstrom of doubt and uncertainty – personal and collective.  Occasional hints of New Age spiritualism apart, James reaches out in these songs to the natural world and the turn of the seasons. In particular, the songs are rooted in the fields and lanes of Dedham Vale in Sussex, photographs of which grace the album's accompanying booklet. Given that this was the location of John Constable's famous paintings, still deeply rooted in the English psyche, there's a strong sense of reaching for a timeless identity that springs from the landscape in which we live.  There is balm to be found in being deeply aware of the physical world beyond human affairs and that is what he seeks here. Alongside that aspect of things, there is also the business of finding someone to share your life's journey with and of realising that you have to continually work at that relationship. As he writes in When The Soft Night Falls, "It is not enough just to assume/That after all these years/Your heart is secure".
                 There's plenty here, then, for reflective people caught in the middle years of life to identify with.  As for the music, the overall vibe will be familiar to anyone weaned on Nick Drake and early John Martyn: beautiful acoustic guitar playing is augmented by the rich sounds of viola and bass. In James Varda's case, the extra instrumentation also comes with harp and accordion from Fliss Jones and some occasionally busy percussion from his co-producer, Bugs and keyboardist/percussionist, Matty Moon. Overall, although that deep-toned introspection is never far away, this kind of feels more like a determinedly "up" album – "up" in the face of all the troubles that life can throw at you. He's looking for, and finding, the beauty in life, and that is reflected in the music. Well worth seeking out, then, if you have a yen to hear a mature voice dealing intelligently with stuff that generally touches us all. 
I can't find any sign of gigs to promote the record or youtube footage to whet the appetite; I guess he's an artist we'll just have to appreciate on record.
John Davy