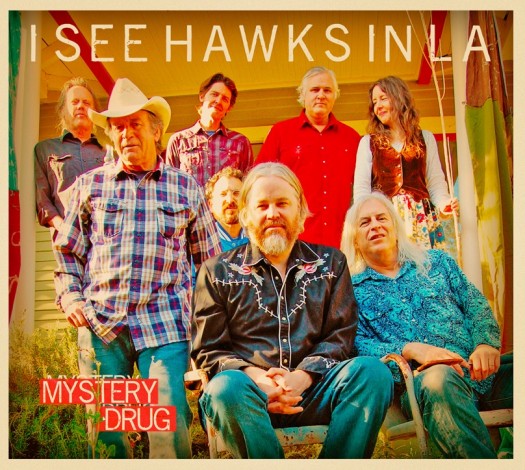 These guys aren't even halfway through their second decade as a band but there's plenty of grey hair on display in the photo that adorns the cover of the new album. I guess they weren't kids when they started out, then. It's rather a nice photo, actually, an informal gathering of the I See Hawks family on a front porch in the California sunshine, collectively looking one part cowboy, one part hippy – which pretty much sums up the vibe they've consistently put out over their ever-interesting career.
Country rock is what they do, in a modern style of their own development: electric guitars, soaring pedal steel and great harmonies built around Rob Waller's gruff (? not quite the word, but certainly bluff and manly) lead vocal.  The sound is distinctive, and so is the subject matter. They'll tackle any old subject that tickles their fancy (celebrating the long-serving Senator Robert Byrd being a memorable example) but typically returning to eco-conscious subject matter and to man's ancient past. Sometimes they've lost me completely and I've really had no idea what they're on about, but they've always had an air about them of doing this band thing for their own amusement, above all – there's never been a sense that they're trying to construct an audience that'll make 'em all rich.
So, thirteen new songs here in that distinctive I See Hawks mold and, for me, this is their most enjoyable album yet. In the past I've always picked up an over-earnestness which made me feel like I was being lectured a bit, but this album is alive with waspish humour – maybe it's just that I'm finally "getting it" with this lot.  The title song is one of those that loses me; "Where did you find it?" they keep asking in the refrain, but I can't work out what the "it" is. No matter, it might come to me one of these days. Even I can't miss the meaning of the flippant, dismissive Stop Driving Like An Asshole.  Along the way we take a trip to the local grocery store, learn about Oklahoma's water crisis, consider the long flow of history that brought us to where we are, take a mature look at personal relationships and, most gloriously, take a wry look at the realities of being in a band, trying to keep the whole thing rolling. This last song is called We Could All Be In Laughlin Tonight, Laughlin being a Nevada resort much favoured by the RV crowd. It's a typically eclectic range of material, and it's all delivered with great panache; the pedal steel sounds like one of those hawks out in the wild blue yonder and there are some lovely bits of acoustic guitar lurking in that big sound that they make. This album is warm, it's fun, it's serious and it's great music – can't ask for anything more. 
John Davy