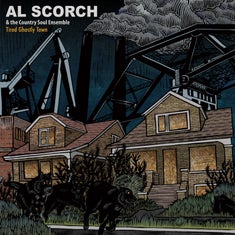 Apologies to those who've sent albums for review in the last couple of months but the rest of life took over for a while there. Anyway, there seems to be time to pay attention to new music again and there's quite a host of new releases for 2013 to look forward to already. Before I get to those, though, I thought I'd give a quick mention to some favourites from the last couple of months that I haven't had time to write up properly. So, first in line is Al Scorch & The Country Soul Ensemble, and their album Tired Ghostly Town:
Chicagoan Al Scorch builds his music around his banjo playing but sticks to no particular agenda as his songs draw on a host of American traditional music forms.  His lyrics, similarly, reference a shelf-load of half remembered reading material. Frequently playing with an energy and commitment that recalls Joe Strummer, Al Scorch and his pals have come up with an album of material that can seem like a random hotch-potch of styles. At it's best, though, there's some crackingly infectious tunes enlivened by great playing and telling curious tales about lives hidden behind the glossy surface of the gleaming modern city.
              Beneath the hectic mélange of styles, it's clear that Al Scorch and his boys are really good players. When it all comes together in the enjoyably rousing Working Dream (reminiscent of Springsteen doing the Seeger Sessions), then you get the feeling that these guys could do pretty much anything they felt like turning their hands to. Good fun.
http://www.alscorch.bigcartel.com/
Then, there's Vanessa Peters: The Burn The Truth The Lies
  Vanessa Peters seemed to disappear from view for a while, but now she's back, working in her native country after moving back to the States from Italy, and sounding, frankly, reinvigorated for the break from music and the change of scene.
      The Burn The Truth The Lies was recorded in Austin under the guidance of Rip Rowan and Jim Vollentine.  With the help of a bunch of local musicians, they've created a bespoke sound to suit the emotional framework of Vanessa's admirably honest and thoughtful writing. There's a fair dose of jangly guitar to pep up some songs and give them a bright attractive pop sound, and this works well. In the quieter numbers, the way these guys weave their sounds around introspective lyrics that are worming their way towards the truth of a situation is, perhaps, more rewarding in the long run and speaks volumes for the way in which they've approached this material.
        These songs deal with the emotional confusion of a drifting relationship and of the possibilities of fresh, or renewed, commitment. Time and again she dwells on the ambiguities and paradoxes of never quite being able to see a clear road ahead and, even if you haven't experienced the kind of situations she's describing, you'll recognise the honesty of the doubts and anxieties that she's chronicling.
         The stand-out song for me is Bright Red, one of the aforementioned jangly-pop songs that steams along irresistibly as she sings a quirky, fun narrative about her state of mind one bright summer, many years ago, when she dyed her hair "bright red". All in all, though, a nice album of intelligent…pop music, I guess, though pop music that shows it's folk and country roots quite strongly. 
And, finally for this post, Dean Owens: Cashback (Songs I Learned From Johnny)
 Another gem of a record from Dean Owens, this one slipped out a few months ago and, sadly, I missed the chance to catch him on the mini-tour he made to promote it. Dean himself seems to reckon this might be the most country of the albums he's made in the last decade or so as a solo artist (outside of a private recording he made for a friend, but maybe you have to buy the cd to read about that story).
             Anyway, Songs I Learned From Johnny does what it says on the can, and brings us Dean's own versions of half a dozen Cash originals plus some other material associated with The Man In Black – and, for good measure, a Dean Owens original (The Night Johnny Cash Played San Quentin) that pays handsome tribute to the place that Johnny Cash continues to hold in our hearts. Whereas nearly every other Cash tribute will seek to recreate in some way that voice and that guitar style, Dean plumps for doing things his own way. The bruised machismo is gone but the tenderness, the lyricism and the emotional fragility are heightened, and that brings something out of familiar songs like I Walk The Line that is well worth hearing.  I guess it's a bit of a risk for him to put out recordings of songs that are so familiar and so well-loved in their original versions but, for me, there's a lovely spirit to this album that will always make it worth a listen. 
www.drumfirerecords.com/dean-owens.html
There's a few more good cds from the last bit of 2012 to catch up on, so I'll try and post again shortly. In the meantime, Happy New Year to all Flyinshoes readers and here's to some more great music in the year ahead./
John Davy